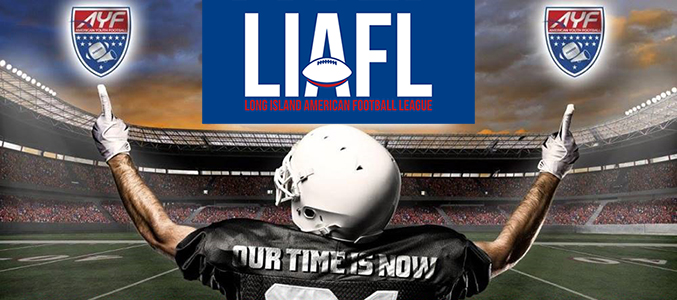 ….it will preserve and strengthen the sport,
and change the football landscape in Long Island forever….
Part of New York Sports Association
and Empire League NYC
A Brand New League for Long Island
The Highest Level of Youth Football
A PROFESSIONALLY RUN LEAGUE THAT CATERS TO EVERYONE PLAYING AT ALL LEVELS OF THE GAME, IN ORDER TO STRENGTHEN & PRESERVE THE SPORT IN LONG ISLAND.
LIAFL is sanctioned by American Youth Football Association and part of the New York Sports Association which includes the Empire League NYC. The league is managed by some of the most experienced football professionals in youth football.
LIAFL is honored to have the largest support network and human resources ever assembled for a Long Island youth league football league. This includes charter endorsements by High School & College Coaches, Medical Organizations, Coaching Associations, and major Sponsors like Dick's, Modell's, and Wilson.
    Governed by AYF, the largest youth football and cheer organization in the country.
    Divisions for BEGINNERS and EXPERIENCED players.
    Unweighted/HS Federation Rules. Playoffs and tract to Nationals.
    Certified professional referees.
    National Safety education provided to parents and players.
    Safety training and hands-on coaching training (not just an online certification).
    Education & clinics provided by experienced coaches and Long Island's biggest Sports Medicine program. Many therapists & doctors are well known in the local sports community.
    Trophies for Championship teams and players.
    Scholarships, and equipment subsidies for towns and players in need.
    Background checks done on all volunteers.
    Player DOB certifications.
    Discounted uniforms.
American Youth Football, the largest football league in the world is launching in Long Island!
CHARTER MEMBERS WANTED: CONTACT GERALD FILARDI
AYF – American Youth Football is the biggest youth football organization in the world! It is a 501(c)3 Charitable Organization
Over 25,000 teams! 200,000 coaches/administrators (who are respected leaders of their communities).
Over 3,000 cities worldwide.
All 50 US States and 10 countries AYF is a special brand of football:
AYF is a community, not a corporation.
AYF was created to rebuild a culture of football and cheer FOR THE KIDS 
AYF PHILOSOPHY KEEP it Real: A youth league does NOT need red tape, they need Support and Service.
KEEP with the Times: Kids are BIGGER – Parents don't have extra time OR extra money!
KEEP it Simple: Volunteers are precious commodities!
GIVE BACK: The founders are 'football guys' who said: "Football gave to us. Let's give back."
MORE THINGS YOU WILL LOVE ABOUT THIS NEW LEAGUE!
THE LONG ISLAND AMERICAN FOOTBALL LEAGUE (LIAFL)
THE LEAGUE IS RUN BY PROFESSIONALS WITH MANY YEARS OF EXPERIENCE IN FOOTBALL AND RUNNING LARGE ORGANIZATIONS. THEY ARE DIPLOMATIC, FAIR LEADERS, WHO VALUE RELATIONSHIPS.
LIAFL HAS YOU COVERED:
UNRIVALED SAFETY STANDARDS AND PRECAUTIONS. EDUCATION FOR COACHES, PARENTS AND PLAYERS IS PROVIDED BY A NATIONALLY RECOGNIZED ORGANIZATION AS WELL AS LOCAL MEDICAL PROFESSIONALS.
THE LEAGUE INCLUDES TACKLE FOOTBALL AND CHEERLEADING
YEAR ROUND COMPETITION & EVENTS FOR CHEERLEADING
AGE GROUPS FROM 5/6 PEE WEE TO 14U
ALL TEAMS IN ALL DIVISIONS HAVE PLAYOFFS
ROSTERS VERIFIED BY AYF
   August 1st date-of-birth cut-off like the rest of the country!
   Kids can always play up.
   Older kids are not allowed to play down. This is policed and enforced.
PLAY ALL OF LONG ISLAND WITH CROSSOVER GAMES WITH NYC, UPSTATE, NY, NJ, PA, DE, MD LOCAL, REGIONAL, AND NATIONAL BRACKETS
    Real multi-level play based on your record.
    Post-season play is with your original verified roster, no add-ons or playing against all-star teams like other league's national championship tournaments.
    Outside teams cannot "pay" to play in national championships like other leagues.
RUN YOUR PROGRAM HOW YOU WANT
    LIAFL is not a dictatorship!
    Teach good football and sportsmanship in your program, and keep the kids safe.
    Other than that, no one is telling you what to do or how to run your program.
CONTROL THE LEAGUE YOU ARE PART OF
    LIAFL follows AYF guidelines and has a written constitution.
    Each member organization has a vote.
    You don't have to be present to vote, and there is no "manipulated" voting. Change the rules, have a say in decisions, shape the league, it's YOUR league!
    No nepotism, no power hungry volunteers forcing their agenda or their view of youth football down your throat.
THIS IS THE "HIGH TECHNOLOGY" LEAGUE!
    AGE VERIFICATION
    ELECTRONIC ROSTER VERIFICATION
    WEB SCORES
    PLAYER RANKINGS
    STATE-OF-THE-ART WEBSITE & STANDINGS